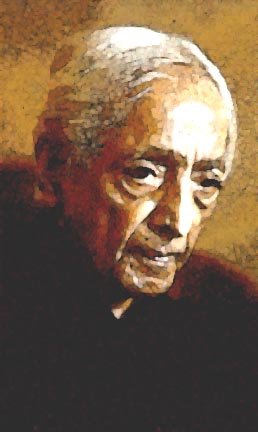 Jiddu Krishnamurti was a lifelong teacher and philosopher who traveled throughout the world sharing his message of personal liberation. His teachings recognized the conditioning of mankind and his efforts were to liberate man from that cage of conditioning.
Born in 1895, Krishnamurti was the eighth child of a Brahmin family. As Evelyne Blau states in her book Krishnamurti: 100 Years: "The cow-herd god Sri Krishna was himself an eighth child, and honoring that Hindu tradition the baby was named Krishnamurti." Krishnamurti was discovered by the Theosophical Society in 1909. The Theosophical Society was started in New York in 1875 by Helena Blavatsky and Colonel Henry Olcott. It was a combination of many mystical beliefs, including gnosticism and eastern mystcism. It was seen as a religion combining the best of all beliefs. In 1909, then president of the Theosophical Society Annie Besant proposed the idea that a "World Teacher" should be born to unify the religions of the world and guide Earth to its next phase of development. Although, she acknowledged a sense of reincarnation for this character as Buddhism played a part in the formation of Theosophical thought (and also the Indian Theosophists, who believed he might be the reincarnation of the bodhisattva Maitreya), it is a stretch to refer to him as their "resurrected messiah", as the Society was only a few decades old. The society itself referred to Krishnamurti as "The World Teacher", and not as resurrected messiah.
Krishnamurti was adopted by the Theosophical Society and educated in Europe. An organization within the Theosophical Society called "The Order of the Star of the East" was formed to facilitate the coming of Krishnamurti. In 1929, Krishnamurti shocked his followers by dissolving the Order of the Star, declining the title of World Teacher, and declaring that all organizations and dogmas were obstacles to truth. "As I said," noted Krishnamurti, "you have been preparing for eighteen years for me. I do not care if you believe that I am the World–Teacher or not. That is of very little importance."