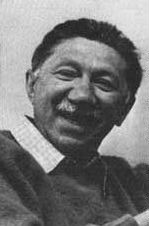 American psychologist and leading exponent of humanistic psychology. Born in Brooklyn, New York, and educated at the City College of New York and the University of Wisconsin, Maslow spent most of his teaching career at Brandeis University. Judging orthodox behaviorism and psychoanalysis to be too rigidly theoretical and concerned with illness, he developed a theory of motivation describing the process by which an individual progresses from basic needs such as food and sex to the highest needs of what he called self-actualization—the fulfillment of one's greatest human potential. Humanistic psychotherapy, usually in the form of group therapy, seeks to help the individual progress through these stages. Maslow's writings include Toward a Psychology of Being (1962) and Farther Reaches of Human Nature (1971).


"Maslow, Abraham Harold." Microsoft® Encarta® Online Encyclopedia 2001
http://encarta.msn.com © 1997-2001 Microsoft Corporation. All rights reserved.

.